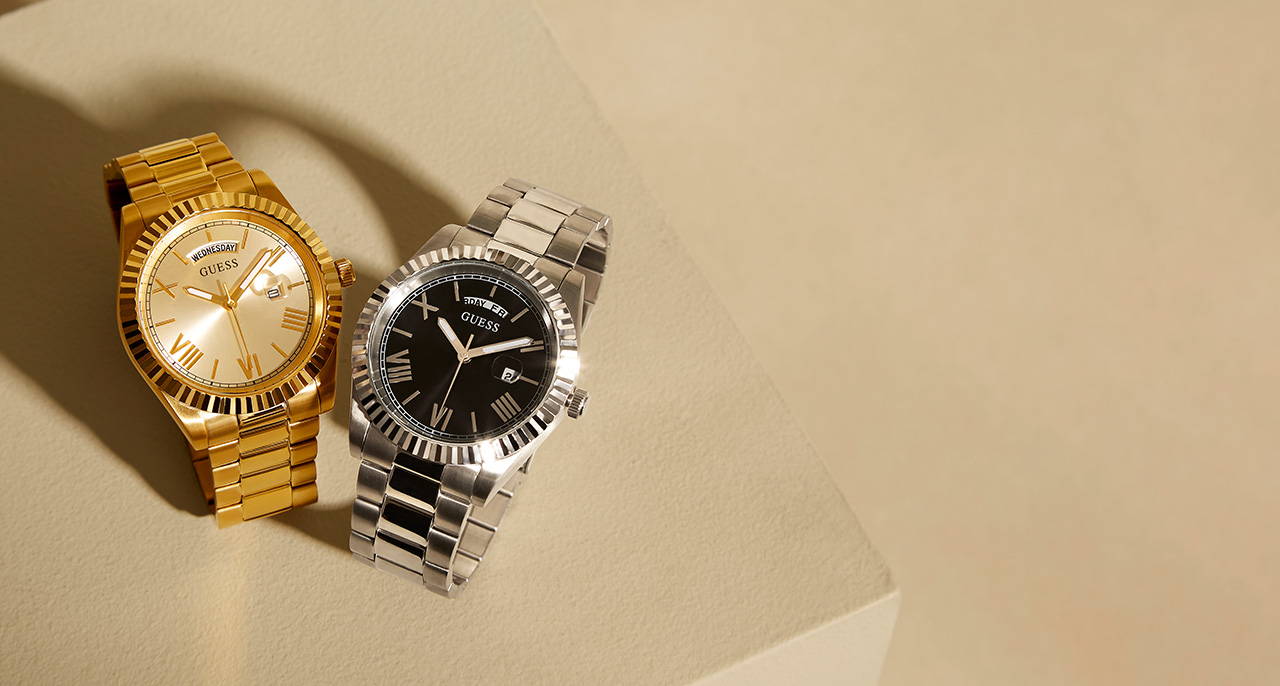 Sophisticated timepieces
to suit any style
Men's Watches
GUESS' collection of men's watches will keep you fashionably on time. Be first in and best dressed for your next event, or never miss your next appointment with GUESS' collection of men's watches. A timepiece can make or break a look whether it is for a high-end occasion or everyday wear. The range offers versatile looks to help elevate your outfit and bring you a subtle yet classic accessory for men.
A men's watch is more than a timepiece, and the perfect watch is a balance between function and personality. A timeless accessory that exudes power, men's watches are a combination of accessory matching, comfortable bands, and personal style. From a large face with gold embellishments to subtle and silver, you will find the perfect style of watch with GUESS.
The GUESS selection of men's silver watches will ensure you attend meetings on time and in style for the corporate world. With sleek designs suitable for any office environment, GUESS watches complement any office wear. Choose your type of style, from smart casual to formal suits; adding a men's watch will never go wrong.
Keep your street style in fashion by matching an all-black men's watch with a pair of GUESS sneakers and a relaxed hoodie. This combination will keep you looking fresh yet casual at the same time. If you want to make a bold entrance, look no further than our all gold or gold and black watches with analogue faces. Strap on these classy timepieces and pair them with a blue suit for the ultimate eye-catching look.
Opt for one of GUESS's silicone banded watches for those who live an active lifestyle, always seeking adventure or playing a sport. Pair with our men's activewear range to ease you from the gym to drinks with the guys.

High-quality on-trend men's watches are available in various colours and materials, including gold, silver with metal or leather bands. Free shipping on orders over $75.