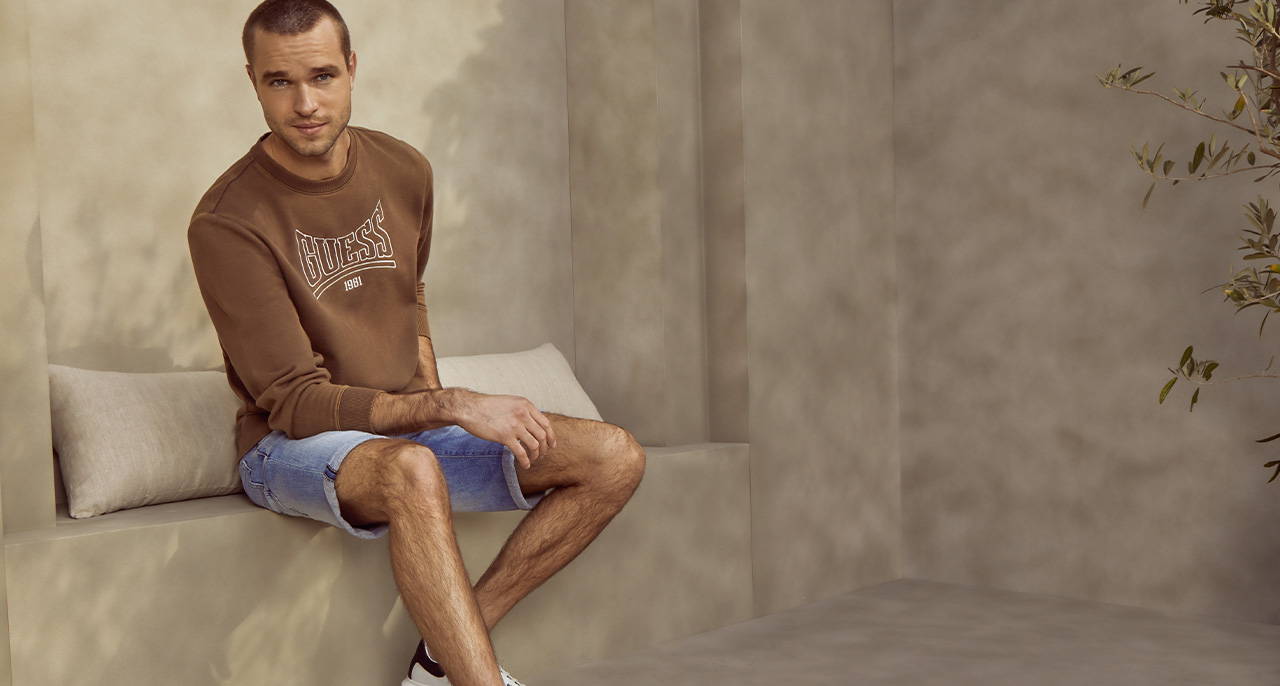 Iconic logos &
wardrobe staples

Iconic logos
& wardrobe staples
Men's Clothing: New Arrivals
Men's Clothing: New Arrivals
Discover Our New Range of Men's Clothing & Outfits.
With the newseason coming up, it's a great idea to find new ways to revamp your wardrobe. Whether by investing in some essential men's outfit staples or adding some bolder pieces to your collection, our GUESS men's clothing range covers a wide selection of styles and trends.
If you are looking for timeless men's outfits that can be adapted to more casual settings, then our GUESS t-shirts are a perfect fit. With their laid-back, classic look, they can be paired with your favourite jeans or worn under a sweater or cardigan for maximum comfort.
Our GUESS men's clothing new arrival features a selection of sweaters that offer excellent cosiness and versatility to keep warm on those cool summer evenings. If you're looking for something a little warmer, opt for a sports jacket or hoodie, or dial up the protection with a windbreaker jacket.
For daily staple pieces, it's important to invest in a great pair of denim jeans. Our men's clothing styles in denim cover straight or relaxed cuts for a more casual feel, or for something a little edgier, GUESS men's has dark wash skinny jeans pair nicely. Wear them with logo t-shirts and comfy sweaters for a relaxed look, or match them with a fitted, long-sleeved t-shirt for a more formal fit.
Polo t-shirts can be a fantastic addition to tone down your workwear while still looking office-ready. Keep it classic with one of our favourite men's outfits - a polo t-shirt with a statement bomber jacket thrown over the top.
From jackets to t-shirts and denim jeans, GUESS men's clothing trends remain timeless and can be mixed and matched for different occasions. Our GUESS men's collection is seasonally updated with new arrivals to keep you looking fresh and feeling comfortable.